The aquaculture industry has been growing rapidly, with an average growth rate of 6.7% per year between 1990 and 2020, with fish produced by aquaculture nearly equalling the amount of capture fish. In 2020, global production of aquatic animals reached 88 million tonnes, according to the 2022 FAO - SOFIA report.
It is thought that developing countries will drive major changes and the expansion in fisheries and aquaculture production, its trade and consumption. The global growth in fish production will be driven by an increase in aquaculture output since the amount of capture fish is generally static. 
In 2020, aquaculture accounted for 49 percent of the total aquatic animals production, while capture fisheries contributed 51% (2022 FAO - SOFIA report). FAO's outlook for fisheries and aquaculture to 2030 projects an increase in production, consumption and trade, albeit at slower growth rates. Sustained growth of aquaculture is projected to reach 106 million tonnes in 2030. 

The graph below, from the FAO SOFIA report (2022), illustrates the world fisheries and aquaculture production.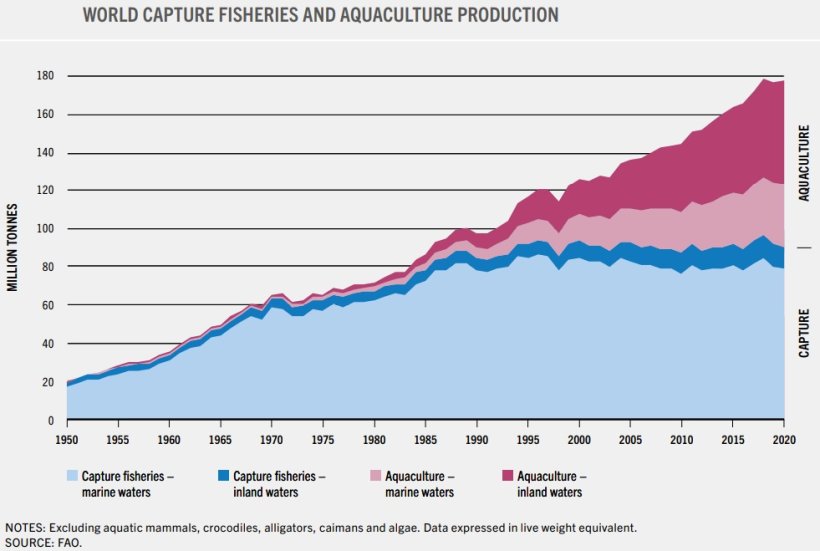 (Source: FAO - 2022 SOFIA report)
Regional breakdown
The FAO states that production of farmed fish is dominated by Asia (89% of the global total in volume terms in the last 20 years). Chile, China and Norway are the top producers in the Americas, Asia and Europe. All three experienced growth in 2020 (SOFIA report, 2022).
The table below shows the global distribution of aquaculture production by region (SOFIA report, 2022):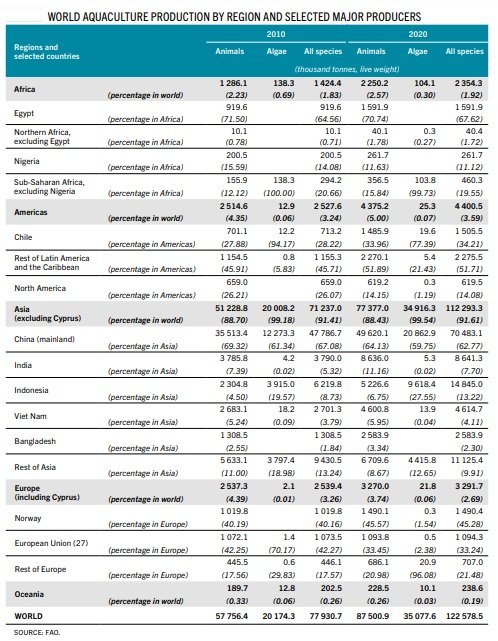 Aquaculture feed
Fishmeal and fish oil are important ingredients in aquaculture feed. As stated in FAO's 2022 SOFIA report (p77), "fishmeal and fish oil are still considered the most nutritious and most digestible ingredients for farmed fish, as well as the major source of omega-3 fatty acids (eicosapentaenoic acid [EPA] and docosahexaenoic acid [DHA])." 
The production of fishmeal is about 5 million tonnes each year. A growing share of fishmeal and fish oil is being produced from fish by-products: "The expansion of processing of fisheries and aquaculture production has resulted in increasing quantities of by-products, which may represent up to 70 percent of processed fish, depending on the size, species and type of processing.[...] Heads, frames, fillet cut-offs, belly flaps and parts of the viscera such as liver and roe are particularly good sources of nutrients such as long-chain omega-3 fatty acids, vitamins A, D and B12, as well as minerals such as iron, zinc, calcium, phosphorus and selenium." (FAO's 2022 SOFIA report, page 79). 
According to IFFO, in 2021, 30 percent of the global production of fishmeal and 51 percent of the total production of fish oil were obtained from by-products.
Aquaculture production will be able to expand because of improved efficiency in the use of fishmeal and its specialised uses.
Information on fishmeal and its use in aquaculture can be found in the articles below: