The events section of the iffo.com website is available in English, Spanish and Chinese where events are being held in these languages, therefore will be specific to each event.  For example, if a Members' Meeting is being held in English and Spanish, then the corresponding web pages will also be available in English and Spanish.
If you hover over the EVENTS tab on the navigation bar at the top of the website, you will see direct links to any active events as well as a section with general information 'About IFFO Events'. Or you can click on the EVENTS tab, which will take you to the overview page.

OVERVIEW OF THE EVENTS SECTION
The Events homepage includes an overview of any upcoming IFFO Events, important or general messages and links to presentations of past events which are accessed via the Members' Area.
Here you will find links to any events that are planned, and if registration is open.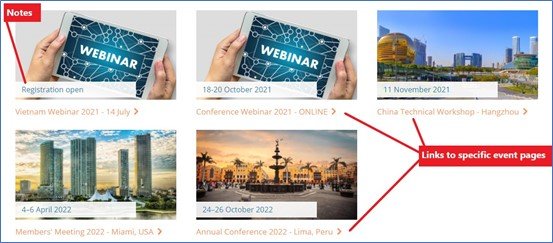 In the footer of the Events section of the website, you will see that there is a Privacy Policy specific to IFFO Events.
RECENT PAST EVENTS
www.iffo.com/recent-past-events
Here you will find key takeaways for events from the past year and, where available, links to the members area to access presentations.
ABOUT IFFO EVENTS
www.iffo.com/about-iffo-events
This section, along with the Quick Links to the right, gives an overview of the different types of IFFO events and locations of past conferences.
HOME PAGE SPECIFIC TO EACH EVENT 
From the Events tab, or Events home page, you can navigate to a specific upcoming event.  Each event will have a landing page which may include information such as a welcome message, blocks to help you plan for the event and, at the bottom, sponsors specific to that event.
By clicking on the sponsors logo, where provided you can link to the sponsor's website.
SUB MENU / PAGES SPECIFIC TO EACH EVENT 
If you know exactly which page you want to navigate to, ie agenda, speakers, registration, hotel, delegates area, etc you can do this in a couple of ways:
When you hover over the EVENTS tab on the navigation bar at the top of the website, you can select any of the sub-menu items OR If you have already navigated to the Home page specific to an event, then you can choose from the "Plan your event" section.
Some of the sections are self-explanatory, but here are a few additional notes:
PROGRAMME
On the righthand side of the Programme page you will see "Filter by attendee type" – select any one of these to filter which sessions / social functions a specific attendee type is permitted to attend, select 'All attendee types' to reset to the full Programme.
REGISTRATION
Before you proceed to the registration form, you should read any important sections such as:
Registration and Conditions – including details about having a single user and password which will give you access to the Members' Area and the Delegates' Area of events you register for, as well as important conditions of registration.
Changes and Cancellations – including deadlines and penalties for changes and cancellations.
Travel Visas, Passports etc– including how to get a letter to support any visa application
SPEAKERS' PROFILES
For larger events, as speakers are confirmed, their career profile and photo will be added to this page.  You can either scroll down or jump to a specific speaker via the list of speakers on the righthand side.  If you select "Read More" under a specific speaker, it will expand the details for that speaker only.  If you select "EXPAND ALL" at the top of the speakers, it will expand the details for ALL the speakers.

DELEGATES' AREA
Only delegates who have registered for a specific event, can gain access to the Delegates' Area for that event.  Here you can find the List of Delegates and, after each session has finished, access to pdf and audio/video presentations (where available) and summaries of each session. 
The delegates' area is where you may also find other information i.e., if there is a Gala Dinner this is where delegates can find the Table Seating Plan (once available).
If you should have any queries with regard to navigating the Events section, please send an email to [email protected].