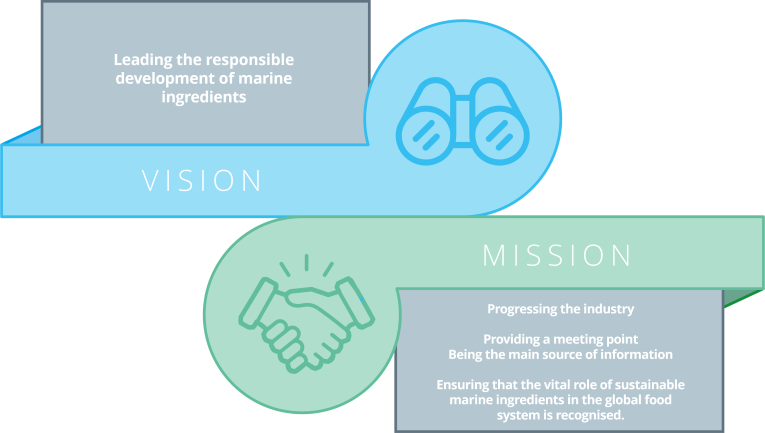 IFFO is an international trade organisation that represents the marine ingredients industry, such as fishmeal, fish oil and other related industries.
Marine ingredients are nutritious products used mainly for aquafeed, land animal feed as well as for human consumption and are derived from marine organisms such as fish, krill, shellfish and algae.
IFFO's 250 members reside in around 50 countries, account for over 55% of world production and 80% of the fishmeal and fish oil traded worldwide. IFFO is an accredited Observer to the UN Food and Agriculture Organisation (FAO) and the International Maritime Organisation (IMO).
For an overview of our work, please see our Annual Report
---
IFFO's History
IFFO was formed in 2001, but has a collective history of 60 years, encompassing the activities of its predecessors, namely the Fishmeal Exporters' Organisation (FEO), International Association of Fish Meal Manufacturers (IAFMM) and International Fishmeal and Oil Manufacturers' Association (IFOMA).  In 2012, IFFO changed its name from IFFO The Fishmeal and Fish Oil Organisation to IFFO, The Marine Ingredients Organisation. In 2013, the UK office moved from St Albans to Central London to improve access for members.
In 2018, Petter Martin Johannessen was appointed as Director General. Gonzalo De Romaña is IFFO's President for 2022-2023.

1959 – 1990s: 
Creating a network for the industry to grow and respond to growing and changing demand
In this timeframe, the world is beginning "to understand the nature of the development process: development is not just economic growth, it is growth plus change" according to the United Nations. In 1945, the FAO is created to lead international efforts to defeat hunger. 10 to 15% of the world's people are found undernourished and up to half suffering from hunger, malnutrition or both (FAO, 1963).  
IFFO grows out of a fish-meal and fish-oil industry need for collaboration, information and shared problem solving. IFFO's ambition: to facilitate cooperation and working together, sharing information in order to build a knowledge base, addressing shared commercial problems.
Between 1960 and 1990, usage of fishmeal switches from mainly pig and poultry feed to mainly aquafeed. While in the 1960s, aquaculture was relatively niche, with an output of a few million tonnes per year, annual production has increased rapidly to reach 17 million tonnes in 1990. Fishmeal and Fish Oil created the modern aquaculture industry: viable feeds for the early industry facilitated technological development in other fields such as engineering and health.
1990s – 2010s: 
Enabling the industry to provide reassurance and expand globally
In the 90s and until the 2010s, the push to promote free trade opens up new markets but also raises concerns about people's welfare and the future of natural resources. Voluntary guidelines emerge. The FAO's Code of conduct for responsible fisheries is adopted in 1995. While global production of fish and seafood has trebled between 1960-90, the Code provides principles of the sustainable management of fisheries and addresses the develop-ment of aquaculture. Businesses are encouraged to support the United Nations' Sustainable Development Goals (SDGs) –adopted in 2015- and the Paris Agreement on Climate is forged.
IFFO focuses on the whole value chain and partners with international organisations. IFFO expands in Asia and creates a Global standard for Responsible Supply of marine ingredients which, by 2012, has certified 40% of global production of fishmeal and fish oil as responsibly sourced and manufactured.
From 2000s, the supply of marine ingredients remains static at about five million tonnes of fishmeal and 1 million tonnes of fish oil per annum. There is an increasing proportion, ¼ in 2012 and 1/3 in 2016, of fisheries by-products in the raw material from which they are produced. There is, therefore, both a lower proportion,75% and falling, and use in tonnage terms, of wild caught feed fish.
2010s – 2025: 
Contributing to feeding a growing population, sustainably and responsibly
In 2025, the world's population will reach 8.1 billion. In a rapidly changing landscape with political instability, climate change, resource scarcity and social inequality, business models need to be transformed so that sustainability becomes the norm. From 50% today, the rate of seafood produced by aquaculture will reach 62% by 2030 (FAO).
While contributing to feeding a growing population with protein, IFFO addresses the need for more transparency and collaboration: IFFO's Standard for Responsible supply becomes a separate entity (2014) and changes its name to MarinTrust (2020). IFFO brings its members into dialogue with the whole food supply chain and engages proactively with media and NGOs to tackle environmental and social issues. Together with Sustainable Fisheries Partnership, IFFO launched the Global Roundtable on Marine Ingredients in October 2021.
IFFO promotes an open and responsible industry that is vital to the global food industry, while delivering collaborative programmes of research and data gathering, encouraging fisheries to get involved in FIPs and the MarinTrust Improver programme and inviting local governments to comply with the FAO's Code of conduct. IFFO supports an increasing use of byproducts (expected to be at a 38% level in 2025 according to the FAO).
---