Growth of the aquaculture industry
The fishmeal industry supplies high quality nutrition into the developing aquaculture industry (as well as for land animal nutrition), and this is the foundation of fed, farmed, aquatic species as the qualities supplied by fishmeal and fish oil are just not available in any other individual feed ingredients.
Aquaculture as a whole has been the fastest growing protein sector for a period in excess of 20 years and is therefore a highly successful industry. The FAO reports that over the last 30 years, global aquaculture production expanded at an average annual rate of more than 8 percent, with a total food fish supply share which increased from 9% in 1980 to 48% in 2011.  Aquaculture is now, therefore, an integral component of global food security, although annual growth rate has since declined to a slightly lower figure of 5.8% over the period 2000-2016 according to the FAO (2018).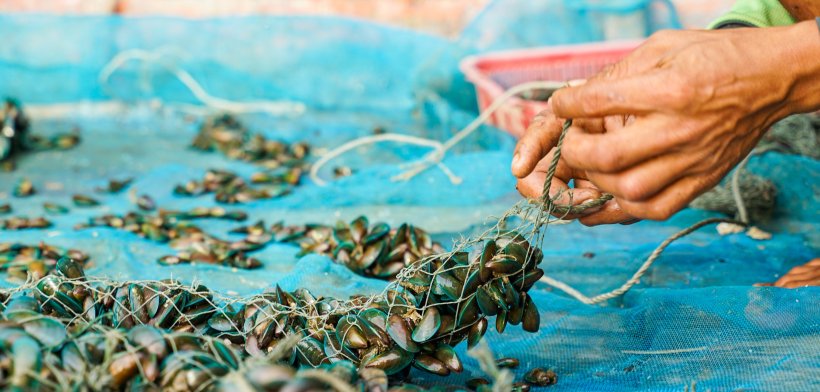 Variation in farming
Behind that success and prosperity there is a highly diverse sector.  It is important to understand the variety of farming types in order to have a full understanding of how feed is used within aquaculture production systems. 
The FAO provides a definition of aquaculture, which states: "The farming of aquatic organisms, including fish, molluscs, crustaceans and plants. Farming implies human intervention in order to enhance production -- for example, stocking fish, feeding them, or providing protection from predators. Farming also means ownership of the fish stock being cultivated."  This definition shows that although the stock on an aquaculture unit may be fed, not all aquaculture is dependent on feed, and so it should not be assumed that any specific farmed aquatic product has required feed (and hence fishmeal and fish oil) in its production. 
In relation to those species that are not fed, there are a number that are managed within aquatic farming systems and do not require any feed inputs. Examples of such systems include species that obviously do not require feeding such as seaweeds and other aquatic plants in marine and freshwater systems; bivalve molluscs such as mussels, oysters and abalone; some species of freshwater crayfish, and some freshwater finfish species. This production globally is highly significant in terms of volume. In their 2018 estimate, the FAO3 suggests that non-fed aquaculture systems (excluding plants) provide a total of 24.4 million tonnes, consisting of 8.8 million tonnes of filter-feeding finfish raised in inland aquaculture (mostly silver carp [Hypophthalmichthys molitrix] and bighead carp [Hypophthalmichthys nobilis]) and 15.6 million tonnes of aquatic invertebrates, mostly marine bivalve molluscs raised in seas, lagoons and coastal ponds.  

Growth of non-fed aquaculture species
What is interesting to note, is that, although continuing to grow, the rate of growth of the non-fed aquaculture species is being exceeded by the rate of growth of the fed species.  FAO (2018) reports that "The share of unfed species in total aquatic animal production decreased gradually from 2000 to 2016, shrinking by 10 percentage points to 30.5 percent". Non-fed aquaculture is an important contributor to low environmental impact protein production, as is fed aquaculture, but the declining rate of growth in comparison to fed aquaculture suggest that the markets for these products do just not carry quite the same demand as those for fed aquaculture product. Fed aquaculture product such as salmon, shrimps, trout, seabass and other species are growing in popularity and demand remains high over time.  This is an important point to take into consideration when looking at global aquaculture development.  Currently, more growth is being driven through fed aquaculture species.  For those fed species, we know that fishmeal and fish oil are the foundation of their nutrition, and therefore their feeds (link), whatever the species, the production system, or the geographical location.
The FAO figures suggest that there is at least a volume of 75.76 million tonnes of fed species to be produced globally in 2030, and very likely more if rates of development are maintained, growing from approximately 55 million tonnes of fed aquaculture production currently.  From that perspective, there appears to be something approaching an additional 20 million tonnes of fed farmed fish to be produced in the next decade.
What this means, in reality, is that there is a continually intensifying demand for increased volume of supply of ingredients for aquafeed production over the period to 2030, of a total close to 30 million tons (assuming a conservative Feed Conversion Ratio of 1.5).  With this in mind, IFFO welcomes all initiatives for new, responsibly-sourced, safe, nutritious ingredients, that can contribute to aquafeed volumes, providing the feed which is essential to maintain the continued growth of the aquaculture sector.  Fed aquaculture, and the aquafeed industry, has a bright future.