The Miami Members' Meeting opened up with the Market Forum, held on the 5th of April.
"Marine ingredients are a necessary part of the blue food narrative"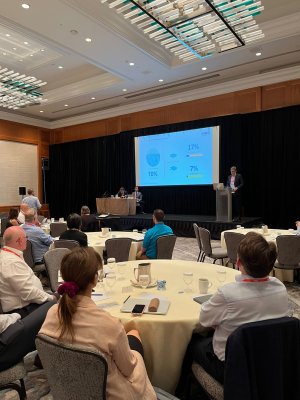 Opening IFFO's first in person event since the start of the pandemic, on April 5th, Petter Johannessen, IFFO's Director General, detailed the role of marine ingredients: they are a necessary part of the blue food narrative in so far as they support the growth of the aquaculture sector. There is a potential to rely much more on seafood as a natural provider of protein. Through aquaculture, marine ingredients have a multiplier effect by which 1kg marine raw material gives 5kg farmed fish across global production systems. 
"With a deficit in feed ingredients of 30-40 million tons to meet FAO's goal of fed aquaculture production in 2030, the strategy is not to replace the nutritional platform of fed aquaculture. The focus needs to be on how the sustainable ingredients available can be utilised in the most efficient way to meet the need for healthy proteins in the future." Innovation and improvements continue to be made across the industry to reduce our environmental footprint and increase the availability of raw materials. The increasing use of by-products reclaims these valuable ingredients while reducing waste. Biomass monitoring, reducing by-catch, and improving production systems also allow us to grow the availability of ingredients from existing stocks.
Driving this change is the core goal that the Global Roundtable on Marine Ingredients has set itself, considering the impacts and possible positive actions both at sea and on land. Launched in 2021 by IFFO and Sustainable Fisheries Partnership, the Roundtable has gathered members from across the value chain to take action to improve the state of the fisheries and therefore ensure the industry grows responsibly.
With the first workstream focusing on West African Fisheries, members of the Roundtable are adamant that the fishmeal and fish oil industry shouldn't undermine food security. "It is important to assess and monitor fish consumption, affordability, and importance for food security and nutrition", Johannessen concluded.
"Everything we eat costs to the world. IFFO is part of the solution"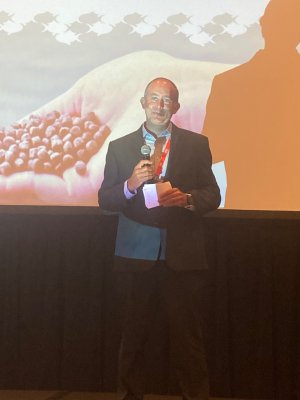 "Behind IFFO's membership growth, I see a powerful combination of marine ingredients producers and traders, brokers, shippers, and feed manufacturers" said IFFO's President Gonzalo de Romaña. All applicants for the IFFO Membership must be able to demonstrate that their raw material comes from regulated fisheries, or from farms that are legally entitled to operate. Vessels should be legally entitled to fish, and report their fishing activities in accordance with the rules.
"IFFO's role remains twofold: as the trustworthy and expert organisation on marine ingredients, it is to support the industry on specific topics such as market insights, regulation and technical projects. And as the uniting platform coordinating the value chain, it also has a role in the food production system through engagement with international organisations such as the United Nations' FAO, the World Economic Forum, and others. We have a great story to tell".
Data is the starting point. IFFO is very well recognized for its trustworthy and scientific database on marine ingredients, going back to 45 years and keeps developing its market intelligence.
The marine ingredients sector is eager to demonstrate its low carbon footprint, lower than that of terrestrial ingredients. The challenge will be feeding a growing population while minimizing the impacts and diversity. With low fuel use intensity and a multiplier effect, the marine ingredients sector is supporting the efficiency of the aquaculture sector producing high protein food, without destroying more land. It is instrumental that land use change is taken into account when assessing ingredients.
Update on China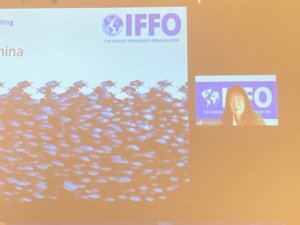 Speaking remotely from Beijing, IFFO's China Director Maggie Xu presented the latest news on the China Market. She opened by introducing the new online registration system for imported food products' overseas producers by China Customs (GACC), which was kicked off on 1st January 2022. On the marine ingredients market in China, given the limited domestic output last year, annual imports of both fishmeal and fish oil in 2021 set new records due to booming demand for feed and feed ingredients. The aquaculture sector enjoyed renewed development in 2021 with an overall high demand and strong prices, which in turn encouraged production. Recovery in the pig farming sector recovery in an oversupply, which in turn caused pig prices to plummet in 2021. The market is expected to recover in the second half of 2022. 
The supply chain of the China market is facing many challenges in 2022 from multiple drivers, including the resurgence of COVID-19, international agricultural commodities market fluctuations under Russia-Ukraine conflicts; and global logistics and foreign exchange movements trends. How the economy adapts to all these challenges could result in far-reaching impacts for the entire supply chain.
"There is huge potential in the whole fish paradigm"
Continuing the Blue Food theme, Melanie Siggs (Director of Strategic Engagement, Global Seafood Alliance) presented a snapshot of how the business of blue food is moving on in the international agenda.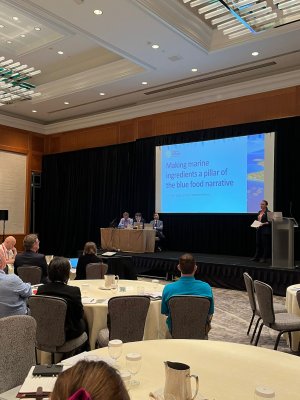 The reality: agriculture now occupies roughly half of the plant-habitable surface of the planet, using 69% of extracted fresh water. Together with the rest of the current food system, it is responsible for 25 – 30% of greenhouse gas emissions. Growing industrial fishing fleets and land-based animal products has led to exploitation of marine fisheries and tropical deforestation, with the food system being the largest contributor to the depletion of biodiversity. "What we need is adaptive and resilient food systems, nutritious food for all within planetary boundaries; while supporting livelihoods and wellbeing", she insisted.
Blue foods provide low CO2 emission protein sources. Siggs highlighted Christopher Golden's paper showing that seven categories of aquatic food, including pelagic fish, shellfish and salmonid, are more nutritious than beef, lamb, goat, chicken or pork when averaging across the seven nutrients assessed (omega-3 long-chain polyunsaturated fatty acids, vitamins A and B12, calcium, iodine, iron and zinc). Combining the nutrient data and a food systems model shows that an increase in aquatic food production by 2030 could prevent undernutrition in 166 million people.
It is now moving up the global agenda, with Blue Food being recognized during the United Nations Food Systems Summit (2021), the launch of The Blue Food Assessment, World Economic Forum's Friends of Ocean Action/Nourishing Billions; and The High Level Ocean Panel for a Sustainable Blue Economy.
Progress for marine ingredients is being made at three levels: feed standards, ingredient development; and future food systems narrative.
"There is huge potential in the whole fish paradigm, measurements are the first step to increasing by-product availability, capturing and repurposing nutrition with 100% usage. The momentum is there but collaboration is key and we need to maintain the narrative at all levels" she said.
"Nutrition will really be a driver for repurposing byproducts. It will start with accountability but will become usage. The earlier you get engaged, the better you drive conversations", she concluded.
Update on fish oil trade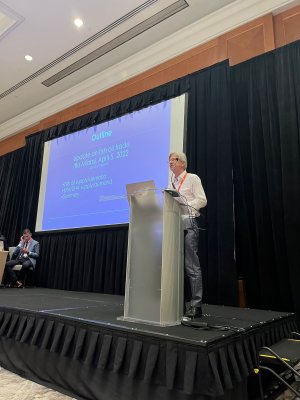 Focusing on fish oil trade, Christian Meinich (Chr. Holtermann AS) gave an overview of the fluctuations in fish oil and rape seed prices, with reduced production of fish oil in 2021, but consumption trends remain steady. There is increased interest for algae-based products and potential changes to feed formulations, which could also be driven by uncertain access to rapeseed oil.
Omega-3 ingredient demand continues to grow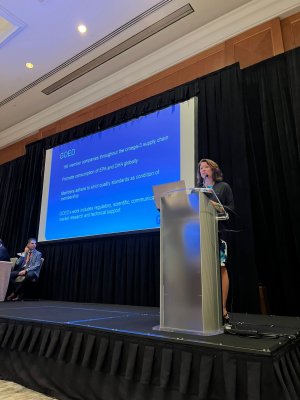 Moving to the Omega-3' market, GOED's Ellen Schutt presented the latest trends and developments. Omega-3 ingredient demand continues to grow, especially driven by dietary supplements and pharmaceuticals. The industry continues to be impacted by COVID, but key trends include increased focus on prevention, especially immune and anti-anxiety supplements, and the pivot to online sales continuing. Supply chain and logistics challenges remain, such as freight prices and shipping timelines, Products/materials supplied by Russia and Ukraine impacting industry; and energy pricing and availability. Price increase at a consumer product level may be starting but full impact is still not clear.
GOED is running a series of campaigns, including Global Omega-3 Day, which enjoyed widespread coverage on social media. GOED's Clinical Study Database has published 40,000 articles on EPA and DHA Omega-3. A member survey also showed CSR and SDG examples from across the industry.
"Seafood ingredients are used primarily for nutritional needs"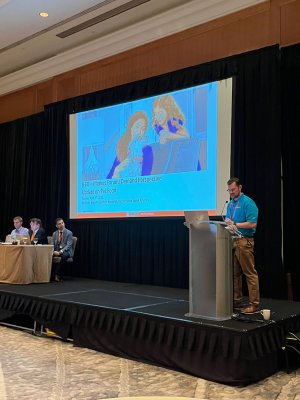 Nestlé Purina North America's Reid Lilly presented a succinct overview from the pet food industry. Seafood ingredients are used primarily for nutritional needs in a variety of different ways (fresh, frozen, meals, oils) depending on the finished product form (dry kibble or wet canned/pouches etc).
Fish oil provides Omega 3 Fatty Acids, EPA and DHA, while fishmeal provides protein including essential amino acids, fatty acids, and Choline.
AAFCO (Association of American Feed Control Officials) establishes guidelines for ingredient definitions and nutrient requirements for animals and pets. Seafood is seen as essential nutrients for puppies and kittens, while nutritional properties can lead to brand claims. High Omega 3's can contribute to skin and coat claims and high EPA/DHA levels can contribute to brain health. The quality of the meal and oil is important as cats and dogs are sensitive and can detect low quality meal and oil; and this can lead to decline in palatability and damage brand reputation.
Demand is growing as the Covid pandemic greatly increased pet adoption (more than 23 million American households adopted a pet during the pandemic). The petfood industry is more resistant to economic downturns vs similar industries and is expected to sustain steady growth. North America remains the largest market, followed by the UK, France, Brazil and Russia. There is a growing trend of consumer demanding that their fish and seafood come from sustainable sources and recirculating aquaculture systems continue to grow.
5th April 2022