Wesley Malcorps from the University of Stirling
Francisco Aldon, CEO of MarinTrust
Host: Brett Glencross, Technical Director, IFFO
Introduction
How do we know that by-product fishmeals and oils are sustainable? Where something comes from plays a BIG part in that story, but how we confirm where something comes from is also a science in itself. To explore this story, Dr Wesley Malcorps from the University of Stirling, and Francisco Aldon, CEO of MarinTrust, joined IFFO Technical Director Dr Brett Glencross on 14th June 2023 for an InFocus Webinar to discuss not only why by-product derived ingredients are so much more special than we give them credit for, but also how we ensure that these ingredients are from the most sustainable sources and what systems exist to trace all that.
We know that over 2 million tonnes, around one third of all fishmeal comes from fish by-products (IFFO, 2022), but how do we confirm that these are responsibly sourced?
Discussion
The challenge is to connect processors and fishmeal plants, insisted Francisco Aldon: processors are the ones providing the raw materials to the fishmeal plants and it is for them to provide the information on the origins of by-products. MarinTrust has been gathering data on this, starting with wild caught fish and it shows the wide range of by-products which are being captured in the supply chain and being turned into fishmeal and fish oil.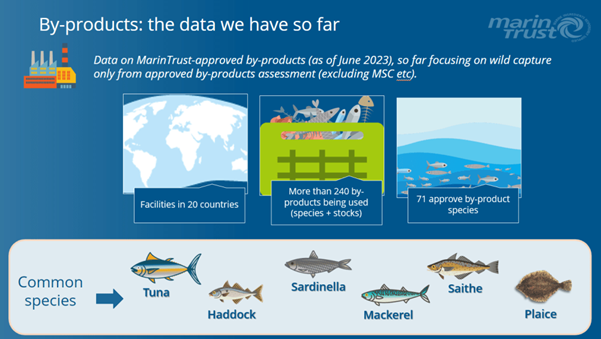 Moving to by-products from aquaculture, there is huge potential here as there is up to 50% of the whole fish available at comparatively low prices. There is now growing interest in using this resource due to consistent supply, nutrition characterisation, low environmental footprint, and fish quality. A large portion of the fish is by-products, Malcorps showed where full processing and utilisation is taking place and where there are more opportunities. Earlier, Stevens et al. (2018) had estimated that Scotland could increase aquaculture output by up to 60% by using more by-products. In terms of a food recovery hierarchy, we need to understand how these by-products have been treated and their quality to then determine their most efficient use (direct human consumption or feed): "To ensure food security, you need to maximise the use of by-products. The nutrients need to be kept within the food supply chain as long as possible. It's about maximising the edible yield" Malcorps said.
The traceability challenge
There are lots of cultural differences in Europe. Add to that the challenges related to traceability. In the UK salmon industry, the consumer preference is fillets so then there is a huge availability of the rest of the fish. In Norway, processing is geographically fragmented. Primary processing (viscera) happens in Norway but secondary processing (heads, frames, trimmings, skin) is outsourced to Poland.
Connecting the dots
Francisco Aldon highlighted how complex the marine ingredients value chain is. This implies that a wide variety of stakeholders is involved and therefore responsible for providing data efficiently to track and trace the fish and demonstrate there is no IUU (illegal, unreported, and unregulated fishing). "Interoperability of the systems is critical. The way forward is standardisation, and it is crucial that people understand why they need to provide the data".
Traceability is critical to avoid adulteration of food, intra species feeding, contamination of feed. It is also key in understanding the environmental aspects: marine ingredients are very variable in their impact between and even within species, mostly depending on the type of fisheries and the fuel intensity associated with it (Newton et al., 2021). Data on sourcing greatly impacts the environmental performance of the products: marine ingredients tend to have very low impacts but there are still fluctuations between points of origin.
To advance traceability a shared and secured network is needed between the users and suppliers of the data.
Getting standardised data
Global Dialogue on Seafood Traceability (GDST) is one answer to this data challenge as it is providing a framework of different data elements and tracking events: MarinTrust is providing the missing links in GDST on marine ingredients to allow the standardisation and linking of data.
MarinTrust has tested the implementation of a full traceability system of marine ingredients with two trials in the UK and Peru. These trials have helped map Critical tracking events (CTE's) and Key data elements (KDE's) and demonstrate that full traceability is possible. Data tracking with by-products is very complex compared to wild caught single species in Peru.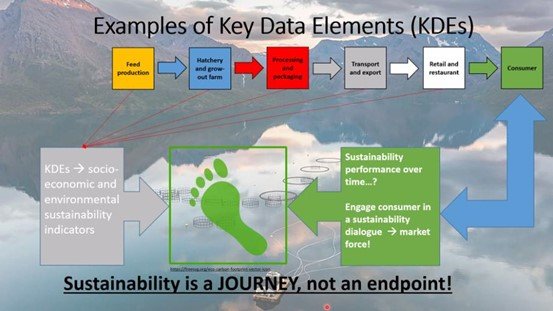 MarinTrust's updated standard (version 3), which will be published later in 2023, is addressing the challenge of traceability with increased data collection (using GDST) and encouraging the use of by-products. The consultation for the version 3 standard is currently on-going, with further comment welcomed from stakeholders over the next few months before the October 2023 launch of the new standard.