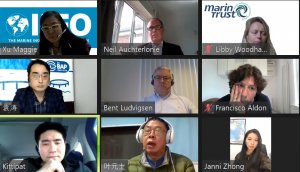 IFFO's webinar was held on 2 December, with 145 attendees and featuring 8 speakers. It included presentations covering market trends, technical and regulatory updates focusing on fishmeal quality and integrity, benefits that certification programs bring to the value chain.
Fishmeal supply and demand, and the importance of supply chain integrity
Dr Neil Auchterlonie, consultant to IFFO, gave an overview of global supply and demand for fishmeal and fish oil. He provided an overview of the specific nutritional qualities of marine ingredients and the importance these confer to fed farmed fish and shellfish. Fishmeal and fish oil provide practical nutritional solutions in a manner that is entirely compatible with current feed technologies. He insisted that an increasing aquafeed volume is needed in the face of a growing global aquaculture industry, further ensuring that fishmeal and fish oil remain highly valued ingredients throughout the world. "It is important that mechanisms secure the nutritional and economic value of these materials, including through certification schemes", he said.
Classification and Quality Analysis of Fishmeal Products in the Chinese Market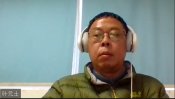 Prof. Ye Yuantu, from Suzhou University presented on the new classification basis of red fishmeal, white fishmeal, and by-product fishmeal available in the Chinese market, as well as the physicochemical indicators for identifying different types of fishmeal. "White fishmeal is made from white fleshed fish such as hake (whole fish or by-products of processing); red fishmeal is made from the red fleshed fish; the seawater by-product fishmeal is made from the by-product of capture seawater red muscular fish; the farmed fish by-product fishmeal is made from the by-product of farmed freshwater and seawater fish. Different marine animals are used to make different types of fishmeal that are suitable for diverse feeds for aquatic animals available in the Chinese market", he explained. He added that the "proportion of Gly/sum of 17AA" is a key indicator to distinguish the red fishmeal made from whole fish from the by-product fishmeal. He underlined that the "proportion of EPA+DHA /sum of fatty acids" is a key indicator to distinguish the fishmeal made from capture seawater fish from the fishmeal made from farmed (freshwater) fish. Fishmeal quality covers nutritional and safety quality. The major nutritional indicators of fishmeal include crude protein content, lysine content and the proportion of sum of 17AA/crude protein. The volatile salt nitrogen (VBN) and histamine contents in fishmeal are indicators of protein freshness and safety, and the malondialdehyde content in the oil and fat of fishmeal is an indicator of oxidation degree and safety of such oil and fat.
Road to sustainability of Thai fishmeal industry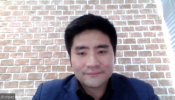 Kittipat Oerareemitr on behalf of  Amnuay Oerareemitr, President of Thai Fishmeal Producers Association and Managing Director of Fishmeal Marketing Development Co., Ltd., Thailand, focused on the Thai fishmeal industry.He explained that the fishmeal industry in Thailand has been developing since 1970. "After it received a yellow card from EU in April 2015, Thailand has overhauled and modernized its fishing and fisheries sector and built a robust new legal and policy framework to ensure a more sustainable, ethical, environmentally and socially friendly industry" he stated. He presented the Gulf of Thailand mixed-trawl Fishery Improvement Project (FIP) fishery, which was accepted onto the MarinTrust Improver Programme (IP) earlier in 2020. From the production and supervision of raw materials to the final packaging and transportation of fishmeal, some fishmeal factories will start to adopt fully automated operations.
Improve your process configuration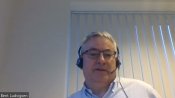 Bent Ludvigsen, Global technology manager at Alfa Laval, provided a comprehensive overview of the most common environmental challenges in fishmeal production and solutions to mitigate these. Maintaining product freshness is critical and is achieved through cooled raw material storage and minimised residence times to control enzyme and bacteria activity. Using gravity belts for process water treatment allows to secure gentle infeed, eliminate disintegration of soft tissue and increase protein and oil yields. Alfa Laval uses microfiltration membranes in order to remove bacterias and particles and almost all fat and suspended material. It is important to ensure the shortest possible airless heating time, which can reduce free fatty acid (FFA) development, prevent oxidation development and minimize biogenic amine levels. Use of a centriflow by Alfa Laval is documented to enable fish oils with below 0,2% FFA, no detectable oxidation (Peroxide and Anisidine). Bent Ludvigsen insisted that frozen raw materials should not be thawed before processing, so that multiplication of FFA levels and discoloration are avoided.
How does certification of marine ingredients work?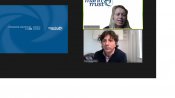 Libby Woodhatch and Francisco Aldon, respectively Executive Chair and CEO of MarinTrust explained that responsible sourcing and manufacturing of marine ingredients is vital if they are to remain a relevant ingredient in feed for aquaculture, agriculture, pet care and directly in the production of consumer products. MarinTrust is the leading independent business to business certification programme for the marine ingredient value chain, consisting of the MarinTrust for Responsible Supply, the MarinTrust Chain of Custody and the MarinTrust Improver Programme. Since opening for applications in October 2009, over 150 plants in 27 different countries have gained MarinTrust certification and around 50% of the world's combined production of marine ingredients is MarinTrust compliant. Libby Woodhatch and Francisco Aldon focused on the assurance the programme provides in terms of traceability, quality and safety and the potential benefits for the Chinese value chain. They highlighted the steps that have been taken to ensure the programme continues to operate globally in a credible manner during Covid 19.
How and why Chain of Custody certification?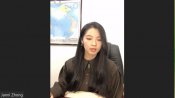 Janni Zhong, Director of Overseas Business Division of Fujian High Fortune Bio-Tech Corp., shared the company's experiences of being the first MarinTrust Chain of Custody certified site in China. As one of the main exporters of fish oil in China, global sourcing is essential to High Fortune. High Fortune not only serves their domestic market but also exports to South America, Europe, Japan and Vietnam. Providing assurance on traceability and transparency is important and Janni Zhong cited the salmon farming industry as a key market. All companies using High Fortune's products want to provide assurances to their customers regarding high-end positioning and social responsibility. The pet food sector, in particular, which is a rising market in China, is eager to demonstrate compliance with certification standards. "Being a holder of the MarinTrust Chain of Custody Certificate ensures we maintain a certain level of sharpness in terms of factory standards internally" she said.
BAP certification and Development in China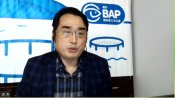 Jeff Yuan, China Country Coordinator at the Global Aquaculture Alliance (GAA), presented the BAP certification standards, whose first standard was issued in 2002. The BAP programme is now composed of six standards which cover the whole farmed seafood production chain (Seafood Processing Standard, Finfish and Crustacean Farms, Mollusk Farms, Salmon Farms, Hatchery Nursery Standard, Feed Mill Standard). The standards are applicable for 99% farmed species.
 "Every BAP standard has considered the 4 pillars of responsible aquaculture practices. And with the star system that we use, the product can be traced though whole production chain", he said.
"Chinese consumers prefer fresh products over frozen ones", he added. Therefore, BAP has come up with a targeted and specific logo for the Chinese market.
Collaboration with other organisations enables BAP to ensure product integrity: for fishmeal and fish oil derived from reduction fisheries, at least 50% (rising to 75% by June 2025) should be MarinTrust certified. Where MarinTrust-certified fishmeal and fish oil are not produced nationally, the above minimum percentage can comprise material from active fishery improver programs (FIPs).
Jeff stressed that retailers who are endorsed by global advance standards, and certified by third parties, will improve their management system and consumer preference. He explained that third-party certification schemesccan help retailersmmanage their suppliers and help suppliers to improve the management system including food safety, traceability, and social responsibility.