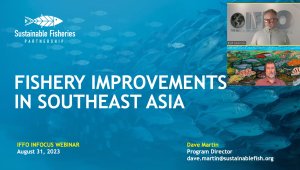 IFFO's Technical Director Dr Brett Glencross hosted a one-hour InFocus discussion on 31 August 2023 featuring Dave Martin, Programme Director at Sustainable Fisheries Partnership (SFP), providing an update on several ongoing projects in Southeast Asia.
Southeast Asia's role in seafood production
Southeast Asia is a leader in global seafood production: nearly half of all seafood comes from this region, which has a diverse ecosystem and very tropical with islands, providing a diverse and rich habitat. The FAO reports highlight data limitations in this region. Half of the fish that are landed are not identified by the individual species. Getting accurate data requires a lot of resources and this region hosts a wide variety of species looking similar.
This region is also home of half of the top ten fishmeal producers, six of the top ten aquafeed producers. Surimi is another marine ingredient. Fish is made into a surimi paste which is used as an ingredient. Byproducts of surimi are used as raw materials for fishmeal. Overfishing, declining harvest, poor fishery management and inadequate data collection mean that these Southeast Asian fisheries are in need of help. 
Complex fisheries
Harvest control rules exist globally. Ideally all those targets are used using a precautionary approach.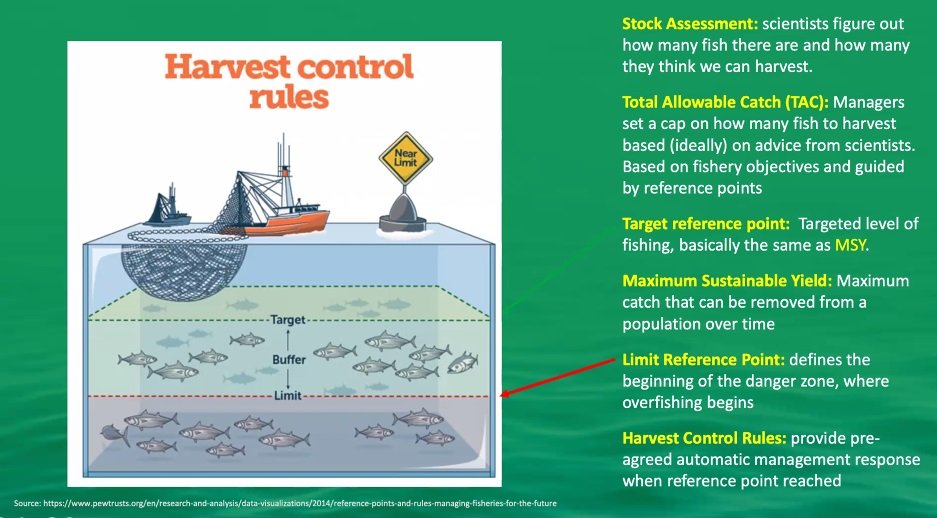 Southeast Asia deals with multispecies fisheries: tenths or hundreds of species are bred in its waters. Multispecies fisheries are characterised by a large number of species exploited and retained. So-called "trash fish" is a major problem in multispecies fisheries. Trash fish could be quarter to half of the net and is a complete mix bag in terms of quality.
MSY (maximum sustainable yields) doesn't work in these fisheries. In this scenario, "multispecies MSY" are required. A good understanding is needed of how the ecosystem functions, including species interactions, what the main environmental drivers are and what human pressures affect the ecosystem. 
How to drive positive changes?
Any fishery around the world experiences trade-offs in fishery management: trade-offs are calculated to create a balance between food production, profit, cost of fishing and employment. We need to use these fisheries by taking into account all these factors. To achieve this, all segments of the industry need to be involved, many are already connected by factor that it's a mixed net coming in. Objectives need to be set in consultation with a range of stakeholders. The key tools that are being tested are based on bioeconomic models. 
Several models for improvement are available such as:
 a fishery improvement project (FIP), relying on the power of the private sector to ultimately change fisheries management. Two hundred FIPs are active in the world and cover ten percent of global seafood production. There's public reporting and transparent market participation. It's a win-win model which has demonstrated its benefits. SFP has been working with Dr Ray Hilborn from the University of Washington to understand these fisheries and the impacts of FIPs. There is now a detailed FIP online database, but there is still a lot of work to be done. Industry leadership in these FIPs has really driven the success.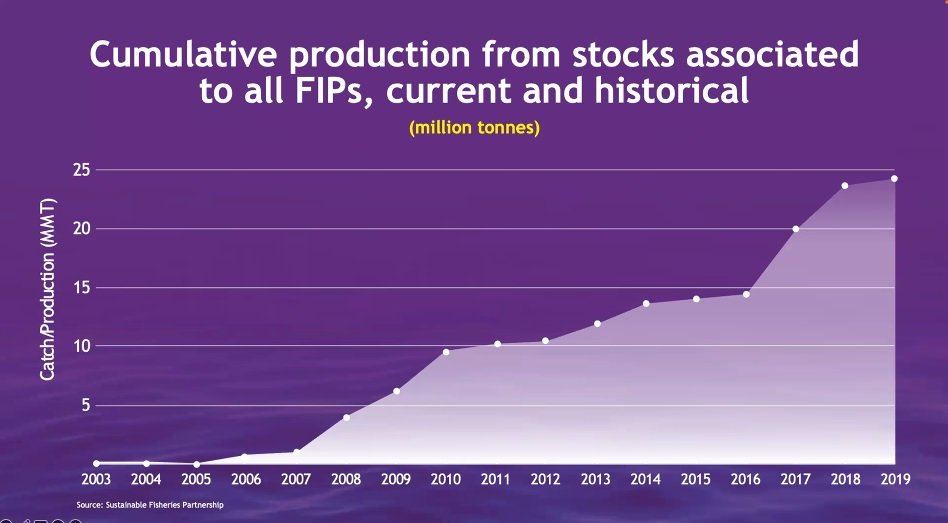 The MarinTrust Improver Programme requires an annual third-party evaluation. MarinTrust is the only global standard addressing Multispecies fisheries through a pilot. There are currently two FIPs that are using the Multispecies assessment approach are accepted as part of the MarinTrust Improver Programme: the Gulf of Thailand mixed-trawl fishery in Thailand and the Vung Tau Multispecies fishery in Vietnam. 
Looking ahead, the aim is to improve regional collaboration and use market incentives to drive improvements. It will bring together the Global Roundtable on Marine Ingredients which SFP and IFFO created in 2021, MarinTrust's pilots and FAO.
Video recording of webinar: