29th-30th November 2021
This recent IFFO China webinar followed the theme of 'The integrity, sustainability and market overview of Fishmeal/Fish Oil supply chain", with speakers covering China market dynamics, processing technology and application, sustainability and responsible production. In order to engage multiple audience, the webinar was available in both Chinese and English and IFFO members can access the recordings and presentations via our Members Area.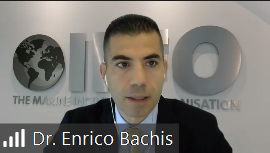 IFFO's Market Director Enrico Bachis opened proceedings by giving a global update on the fishmeal and fish oil markets. His analysis of the worldwide production of marine ingredients in 2020 underlined how resilient the industry was in the face of the covid-19 pandemic: with just short of 5 million metric tonnes of fishmeal and 1.3 million metric tonnes of fish oil, 2020 production was actually above that of 2019. Looking at the expected production in 2022, he explained that 30% of the raw material used will come from by-products, confirming the ability of this sector to maximise precious raw material. The aquaculture sector remains a key consumer of marine ingredients (fish eat fish in the wild). Marine ingredients are crucial in providing to human beings the essential omega-3 fatty acids, either through the farmed fish we eat, or through the omega-3 supplements based on fish oil that we consume. Asia and China provide more than 80%of the farmed fish worldwide, they consume 70% of the marine ingredients used in aquaculture but only 30% of the fish oil used in aquafeed.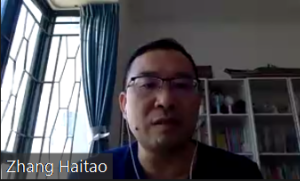 Mr. Zhang Haitao, Vice President at Guangdong Evergreen Feed Industry explored the Status Quo of China's Application of Fishmeal in Aquaculture Feed observed that the total volume of both aquaculture and aquaculture feed in China have tended to be stable in recent years. "With the change in social consumption demand, the nutritious, delicious, safe and convenient aquatic products are increasingly favoured, and the structure of aquaculture varieties has changed greatly", he explained. Touching on new trends, he added there might a greater demand for fishmeal if farmers of mandarin fish, blue crab, swimming crab, east wind snail and other varieties continue using aquaculture feed for them all. The promotion of new aquaculture species (king kong shrimp) and the development of new aquaculture modes (offshore cage, industrial vessel, factorization) may also contribute to an increased demand for fishmeal.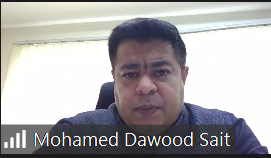 Moving to focus to the Indian market, Mohamed Dawood Sait, Sales & Marketing Head, SM.GROUP, explained that the majority of fish landings come from west coast of India, which is under a fishing ban mid-June to mid-August every year. A new "Indian Marine Ingredients Association" was recently formed to help this traditional sector further grow sustainably. Output of fishmeal in India has remained stable during the past couple of years, serving both domestic and international markets, with the former accounting for 75% of national production annually.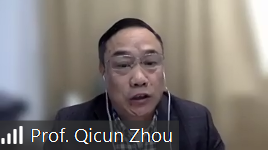 Prof. Zhou Qicun, from the Ningbo University, explained that the aquatic animal protein production industry has attracted worldwide attention along with the rapid development of aquaculture and the high utilization efficiency of aquatic animal protein by human beings. According to statistics, he said, 70% of the total global production of fishmeal and fish oil is consumed by aquaculture. The prices of fishmeal and fish oil are increasing due to large demand and limited resources. Therefore, fishmeal substitution has become a hot research spot in recent ten years.
"It is well known", he stated, "that the nutrition of fishmeal can not be completely substituted by other raw materials, so it is worth thinking about the potential risks to aquatic animals after fishmeal substitution". Considering prawn feed after fishmeal substitution he went through six considerations:
 (1) Fishmeal substitution, especially a high proportion of substitution, will significantly affect the growth performance of aquatic animals and feed utilization; (2) With the increase of the level of fishmeal substitution, the content of nutrients in aquatic animals decreases significantly, and the nutritional quality could not be guaranteed; (3) After fishmeal substitution, the composition and abundance of intestinal microorganisms will be affected, which will result in the decrease of growth and the decrease of resistance to diseases and stress; (4) With the increase of the level of fishmeal substitution, the apparent digestibility of feed will decrease almost linearly, and the availability of nutrients for animals will decrease greatly; (5) Generally, with the decrease of the level of fishmeal in the diet, the immunity and anti-oxidation ability of the animals will decrease, and the resistance to diseases will also decrease; and (6) Research on the effect of fishmeal substitution on meat quality is still lacking and should be paid attention to.
He concluded with four suggestions about prawn feed: (1) "Low" fishmeal ≠ "zero" fishmeal; (2) Appropriate substitution with protein can relieve the pressure toward fishmeal resources; (3) Under the condition of "low" fishmeal, the supplementary use of additives shall be considered; and (4) Nutrition and health are equally important for the growth and culture of animals.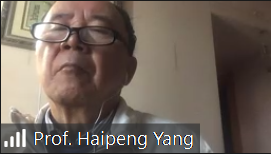 On the second day, Prof. Yang Haipeng, Former Chief Researcher at the China National Feed Quality Control Centre, made it clear from the start that China is not only an important fishmeal consumer but also an important fishmeal producer. With the rise of high-price energy consumption and energy saving and emission reduction, domestic fishmeal has witnessed great progress. And the domestic fishmeal industry and the changing demand are also facing new challenges. The functionality, positive value and negative factors of animal raw materials reflect the "irreplaceability" of fishmeal in some cases. Domestic fishmeal can boast improved value through its differentiated use. The full-defatted fishmeal, semi-defatted fishmeal and mixed fish and shrimp meal all reflect their own values in their respective fields.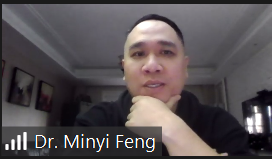 Dr. Feng Minyi, Technical Manager at Cargill China commented on the increasingly prominent imbalance between supply and demand of fishmeal and fish oil due to the rapid development of the aquaculture industry. "As practitioners, we should think systematically and find solutions on how to realize the mutual sustainable development of fishmeal and fish oil and aquaculture" he said. Currently, the sustainable development of fishmeal and fish oil is an important scientific issue and commercial issue in the industry. In the short run, it is feasible to control the amount of fishmeal and fish oil reasonably in a certain stage of cultivating aquatic products, he explained.
However, due to limitations of research and technological development, the aquaculture industry cannot be completely separated from the use of fishmeal and fish oil in the medium and short term. "In particular, fishmeal and fish oil, especially fishmeal, are still indispensable to the larval and seedling stage of cultured animals, as well as to most carnivorous varieties. The development of nutrition technology, new raw material cultivation technology and production technology, as well as the extensive use of animal by-products, has played a key role in the rational application of fishmeal and fish oil and the sustainable development of fishmeal and fish oil industry".
Presenting Cargill's SeaFurther Programme, he underlined the willingness to focus on the sustainable development of the industry. "Cargill China has also been making its own efforts for the sustainable development of the industry in terms of the use of fishmeal. We should innovate technologies, make reasonable applications, bear in mind our social responsibilities, and promote the common sustainable development of the industry" he summarised.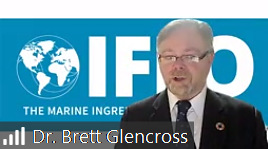 Dr. Brett Glencross, IFFO's Technical Director, explored the changing landscape of ingredient use in the aquaculture feed sector. While traditionally feeds were reliant on marine ingredients as a source of bulk nutrition, these days they are used more as strategic ingredients where they help to optimise formulation criteria. Additionally, the origins of many of our marine ingredients are changing, with a growing proportion now coming from by-products of fishery and aquaculture produce and this has important sustainability implications. Although feeds are made from ingredients, animals actually need nutrients, not ingredients and this is the important point of difference of marine ingredients against many of the alternatives. The key nutrient supply roles differ between fishmeal and fish oils. In addition to their nutrient supply role, marine ingredients also play an important role in stimulation of palatability with their strategic use as a palatant enabling the use of lower grade cheaper ingredients to supply bulk nutrients. Beyond the role of marine ingredients in supplying critical nutrients like omega-3 and stimulating palatability, a growing awareness of their sustainability credentials is emerging, and this looks to be of a growing importance into the future.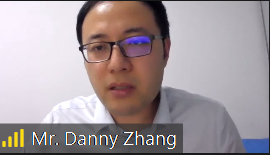 Mr. Zhang Danny Fan, Senior Manager at Food Division of NSF Shanghai, provided an overview of the current development of marine sustainability certification programmes. Referring to the MSC's definition of sustainable fishing, he explained that it is about leaving enough fish in the ocean and protecting habitats and threatened species. By safeguarding the oceans, people who depend on fishing can maintain their livelihoods. "The sustainability of a fishery can be assessed regardless of its size, geography or the fishing method used", he explained, "and it is an ongoing process". The whole marine ingredients value chain is covered by several certification programmes (MSC, ASC, BAP, Global GAP, etc.), each of them having their own area of expertise: MarinTrust's unit of certification is the fishmeal and fish oil production plants, with the MarinTrust Chain of Custody standard covering trading activities and feed factories. "According to the FAO Guidelines for the ecolabelling of fish and fishery products from marine capture fisheries, a chain of custody standard covers both the tracking/traceability of the product all along the processing, distribution and marketing chain, as well as the proper tracking of the documentation (and control of the quantity concerned)" he added.
The benefits of certification rely on the expertise, independence, and impartiality of certification bodies, which, while conducting audits according to the standards, must be accredited by Certification and Accreditation Administration of China and third party (ISO 17065). This is a robust way of demonstrating that marine ingredients are responsibly sourced and produced. "Certification programmes also help provide assurances to customers and build confidence in the supply chain and cross border trade", he concluded.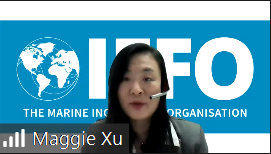 IFFO China Director, Maggie Xu, concluded by noting that blue food is an important part of the global food safety system. Fish meal and fish oil provide strategic support for the production of blue food. The carbon footprint of the marine ingredients industry is much lower than that of other feed raw materials, which is a good response to the carbon peak and carbon neutralization goals put forward by the Chinese government. Although COVID-19 still affects the world, we have reason to remain confident and optimistic about the resilience of the marine ingredients industry. She thanked all speakers and staff for their hard work and those who attended.