On 14 July 2021, IFFO - The Marine Ingredients Organisation's Vietnam webinar engaged directly with representatives from across the Vietnamese marine ingredients and aquafeed supply chain, with practical guidance presented on industry standards and access to the China market, while speakers also discussed areas of development for the region.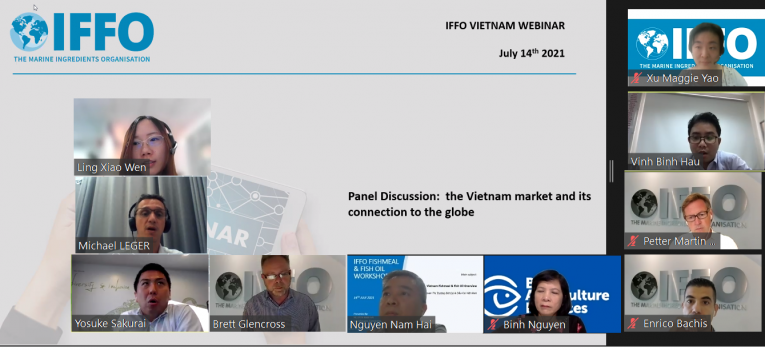 Presentations consistently highlighted the importance of responsible supply and traceability throughout the value chain. IFFO's Director General, Petter Johannessen, noted that "demand for marine ingredients remains high and to ensure the industry's viable and sustainable future, a chain of industry standards now offer full traceability from fishery to consumer. As an industry, we are working to strengthen the global standing of the industry, while supporting responsible supply worldwide. Each stage of the chain is covered by relevant checks and certifications, which are putting in place recognition procedures among each other to ensure smooth collaboration and flow of the products."
Focusing on practical advice for companies, the webinar explored the role of industry standards, with speakers from Skretting and Kanematsu highlighting standards as a crucial part of ensuring traceability throughout their supply chains. Global Seafood Alliance gave an example of this with an overview of their BAP Standards. While standards do assist with increasing access to global markets, the webinar also explored access to the China Market, covering the regulatory bodies and their regulations, including the MOARA license.
The webinar is part of IFFO's increasing focus on Asian markets, with the aim to increase discussions on responsible supply chains and improve access to international markets. In closing, IFFO's China Director, Maggie Xu, noted that "IFFO recognises Vietnam's key role in the global marine ingredients and aquaculture industries, and we look forward to continuing our work in this region following these fascinating discussions. Both access and sustainability remain at the core to the long-term success of this industry".
The summaries of the presentations are available here.