Petter M. Johannessen's interview was conducted and published by Frontline of fisheries / FishFirst - June 2020 edition
The original version, in Chinese, is available for download below.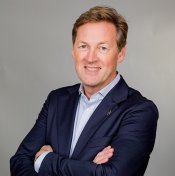 Petter M. Johannessen: "In most countries, the marine ingredients industry has been considered as a part of the essential food supply chain, which explains that fishing and reduction operations have continued to be carried out almost everywhere. The pandemic has slowed down the operations though, with staff shortages and new sanitary guidelines for operation of fisheries and processing. Feed companies have ensured necessary supplies to farmers to safeguard the health and welfare of their animals and to maintain the production level on farms. All food sectors have suffered from the closure of the foodservice but in the seafood sector, the temporary switch from fresh to frozen has proven painful. The crisis has led to a closure of restaurants worldwide. For the medium term it will depend on how quickly the foodservice opens up around the world. The nutraceutical sector has seen an increase in the demand for health supplements based on fish oil (omega-3s).
On May 8, the first fishing season in north central Peru opened at least 2,4 million MT. How should feed companies interpret this figure?
The shorter 2019 second fishing season meant that some pre-sales could not be honored then and will have to be fulfilled now. The Peruvian anchovy quota has been set at less than 24% of the biomass for the first season in North Central waters, with a start of the season on May 13. This confirms the cautious and sustainable management of the anchovy biomass by the Peruvian authorities. Potentially the granted quota could produce 570,000 mt of fishmeal.
How will IFFO talk to or collaborate with the growing number of non-mainstream fishmeal options?
Fishmeal is one of the most valuable ingredients for animal feeds because of its nutritional properties and its high digestibility, which contribute to animal welfare, growth, resilience and palatability. IFFO initiated a research project to establish a fishmeal holotype collection representing, as best as possible, the variety of different fish meals available around the world. That review is now available to IFFO members. This creates point-of-difference positions for further value creation. The bottom line is that the amino acid profile of fishmeal is so balanced that it fits the needs of farmed fish precisely and is therefore very attractive as a feed ingredient. In addition, fishmeal usually contains 8-12% fish oil and is therefore also a rich source of long chain omega-3s than any other feed ingredient, barring fish oil itself.
China is revising its fishmeal standards, which will affect the entry of imported fishmeal. Do you have any comments or suggestions?
China's Ministry of Agriculture and Rural Affairs attaches great importance to both quality and safety of imported fishmeal. As this work is important for our members as well as making sure that the important parameters are covered, IFFO has followed the revision of the standard. The fishmeal standard is important for the food safety as well as for food security. The parameters in fishmeal standards should be set in a way that meets both process and product criteria the producers can meet, within recognized food safety standards. The circular economy is becoming increasingly important, also within marine ingredients production and at least 33% of global fish meal production today comes from byproduct from seafood processing. This is something that is important for all fishmeal standards globally to take into consideration.
Is there any new progress about fishmeal antioxidants? If antioxidants such as ethoxyquine and BHT cannot be used, is there a suitable alternative? And what impact will it have on the global fishmeal industry?
Currently ethoxyquin is not allowed to be used in the European Union. Ethoxyquin still awaits an updated scientific opinion by the European Food Standards Agency (EFSA) and a subsequent decision on reauthorization in the EU by the European Commission. In the meantime, ethoxyquin has been banned in the EU, after the "hard stop" written into the partial ban issued in 2015 came into effect in October 2019.  IFFO has launched a trial of potential of other antioxidants for the stabilization of fishmeal. Among other initiatives within antioxidants, IFFO, supports the Peruvian Instituto Tecnológico de la Producción (ITP) in developing a comparative study of new technologies related to the stability of the lipid component in fishmeal.
FAO believes that aquaculture is the main source of the future response to the global population's demand for high-quality protein. Do you think that feed materials such as marine ingredient can meet the future needs of the aquaculture industry?
Based on the FAO estimates, there appears to be something approaching an additional 20 million tonnes of fed farmed fish to be produced in the next decade. This implies that there is a continually intensifying demand for increased volume of supply of ingredients for aquafeed production. Fishmeal and fish oil remain the foundation of aquaculture: their multiplier power enables to produce 4.5kg of farmed fish using 1kg of wild fish. The inclusion of marine ingredients in aquaculture diets ensures that the fish intended for human consumption is a source of the essential fatty acids EPA and DHA that is vital for human biological functions. Fishmeal and fish oil supplies have remained stable over the last decades, at 5mt every year. With this in mind, IFFO welcomes all initiatives for new, responsibly-sourced, safe, nutritious ingredients, that can contribute to aquafeed volumes.
Besides fishmeal and fish oil, are there any new marine ingredient developed by IFFO members? How about the application effect and promotion?
As 33% of the fishmeal volume coming from byproducts, there is a potential to increase this share, especially in Asia. Other additional raw materials could be considered in the future, such as mesopelagics and zoopkankton.
How do you think of the relationship between the development and utilization of marine ingredient and environmental protection?
The industry's decision back in the 2000s to create a certification platform known as IFFO RS, now MarinTrust, allowed all producers to go further in providing assurance on the sustainability of marine ingredients used as feeds, especially with regards to its environmental impacts and traceability. There is a strong drive for certification worldwide and IFFO has committed to facilitating the process for fisheries to engage in a certification or improvement process. The share of the fishmeal and fish oil production worldwide which is certified against MarinTrust standards is now above 50% and should keep on increasing in the coming years.
The Marine Ingredients Industry is a pioneer in the circular economy with at least 33% of the fishmeal volume coming from byproducts.
As all activities, the marine ingredients industry does have environmental impacts, but these need to be compared, using a life cycle approach, to the impacts of terrestrial livestock, which was done last year by an international team led by Wesley Malcorps, Phd (University of Stirling, UK). Mr Malcorps said that substituting fishmeal for plant ingredients would shift resource demand from the oceans onto the land, potentially adding pressure to the land-based food production systems, which are already under pressure to meet global demand for food, feed, biofuels, and biobased materials. In turn, this would affect the environment and biodiversity, as well as the availability and prices of crops."