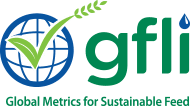 The Global Feed LCA Institute (GFLI) is an independent animal nutrition and food industry institute with the purpose of developing a publicly available Animal Nutrition Life Cycle Analysis (LCA) database to support meaningful environmental assessment of animal nutrition products and stimulate continuous improvement of the environmental performance in the animal nutrition and food industry.
IFFO promotes an open and responsible industry which is vital to the global food industry. It conducts collaborative and science-based programmes of research and data gathering, with the aim of supporting the global food system in feeding a growing population sustainably. Marine ingredients generally perform better than terrestrial ingredients for most environmental impact parameters, but data need to be updated to include by-product materials as well as all major fisheries supplying raw material to the marine ingredients industry.
"With the GFLI database not extensively representing marine ingredients yet, IFFO's proactive approach in sustainable production and life cycle assessments (LCA) proves a valuable collaboration for both organisations." Laura Nobel, Project Coordinator at GFLI says.
"The aim of the GFLI membership is to facilitate transparency and a more rapid transformation to sustainable feed supply chains. The marine ingredients industry has been contributing to transparency on sustainability metrics through the various works it has commissioned over time regarding impact, effectiveness, and value of the use of marine ingredients. We now want to go further, towards a more holistic and comprehensive measurement based on the use of lifecycle assessment (LCA) analyses." IFFO's Technical Director, Dr Brett Glencross, says.
28 March 2022