ROOM OPTIONS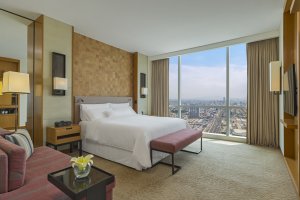 Due to the overwhelming popularity of the 2022 IFFO Annual Conference, there are no further rooms available in the IFFO block at the Westin Lima hotel.  Details of alternative accommodation are available here.
The Westin Lima Hotel & Convention Center has 301 elegant rooms and suites offering guests a modern retreat from the stress of the bustling city below.  Boasting floor-to-ceiling windows, each room has optimal natural light and invigorating views of downtown. 
All rooms are air-conditioned and have a large walk-in closet.  Each room features a 37" LCD television, DVD player, radio, in-room safe, hairdryer, tea and coffee making facilities, mini-bar and iron.  Guests can relax in the spacious marble bathroom, with a bathtub and separate shower, plush bathrobe, slippers and bath amenities.  For your business needs, rooms include a spacious desk and chair, telephone with voicemail, USB outlets and complimentary internet.  Also available is a daily newspaper, a complimentary bottle of water and complimentary use of the fitness gym and swimming pool.  Fees may apply on some amenities/services. 
All room rates are subject to sales tax and service charges, currently 18% and 10% respectively.  However, sales tax will not apply to guests who are not Peruvian residents as long as they pay directly for their rooms and present their valid passports showing a stay of less than 60 days in Peru and the invoice is issued to the guest.
When checking in, guests must leave a deposit (credit card or cash) for room payment and any extra consumption they may incur.
You can find further details about the rooms at www.marriott.co.uk/hotels/hotel-rooms/limwi-the-westin-lima-hotel-and-convention-center/.
---
A selection of guest rooms in the Westin Lima Hotel have been block booked for IFFO delegates as follows:
 
Deluxe room  (43 m2):     84 held by IFFO     SOLD
               Single occupancy: US$ 240.00    Double occupancy: US$ 255.00
Welcoming spaces with contemporary décor, natural light, and city views, Deluxe rooms are accented with colorful Peruvian motifs and tropical mahogany.  These rooms are equally comfortable for work or relaxation.
 
Grand Deluxe room  (43 m2):     113 held by IFFO     SOLD
               Single occupancy: US$ 265.00    Double occupancy: US$ 280.00
With the same excellent standard of the Deluxe room but located on mid floors of the hotel so guests can enjoy the great vistas.  
EXECUTIVE CLUB ROOMS - The following room types have complimentary access to the Westin Executive Club Lounge with its full range of privileges.  Further information about the Club Lounge and its privileges is available here.  There is limited availability of these room types. If you are interested, it is advisable to book early to avoid disappointment:

Westin Executive room  (43 m2):     34 held by IFFO     SOLD
               Single occupancy: US$ 310.00     Double occupancy: US$ 325.00
Ideal for travellers looking for quiet rest or space to stay connected to work, these rooms offer the same features as the Grand Deluxe room but with the added benefits of the Executive Club Lounge. 
 
Executive SUITE  (65 m2):     12 held by IFFO     SOLD
               Single occupancy: US$ 410.00    Double occupancy: US$ 425.00
Separated into living and sleeping areas, Executive Suites benefit from the luxury of space with dazzling city views. Cosmopolitan décor echoes Peruvian culture with striking textiles, natural woods and stones, and art objects from around the world. Plush, comfortable seating and a 42-inch LCD TV in the living area make it easy to feel at home.  A dining table with seating for four may also double as an in-room meeting table.  These suites are located on high floors.
 
Master SUITE  (86 m2):     4 held by IFFO     SOLD
               Single occupancy: US$ 510.00   Double occupancy: US$ 525.00
These suites with spacious private bedroom have sweeping views and exude cosmopolitan elegance, complete with Peruvian textiles and woods.  Enjoy a separate living area with a sofa, 42-inch LCD TV, and wet bar.  A spacious dining area features a table large enough to comfortably seat six guests for meals or meetings.  These suites are located on high floors.
---
To view full details of accommodation rates please click here.
All rooms are non-smoking.  Guests will be charged a penalty ($200 plus taxes) for smoking in room.
Please ensure to read the cancellation policy with respect to booking cancellations, "no-shows" and reduced number of nights.
 
ROOM AVAILABILITY
A limited number of guest rooms have been block-booked for IFFO delegates at the Westin Lima Hotel.  Please note that rooms are available strictly on a first-come, first-served basis; and once these rooms have been allocated you may need to find your own alternative accommodation.  In order to secure a room, you need to provide your credit card details when registering.
BREAKFAST
Buffet breakfast served in the hotel's restaurant is included in the room rate.
For any guest taking breakfast through Room Service, the Hotel will charge the rate à la carte (Room Service menu) to the guests' individual accounts, to be settled before departure.