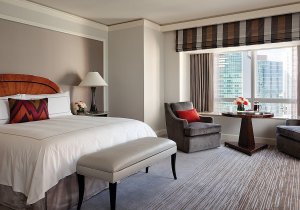 Settle onto comfortable, deep-cushioned window seats and enjoy expansive views of Miami's cityscape.  Each City View room provides the perfect balance between relaxation and work with a King bed, work desk, armchair, in-room safe, standard Wi-Fi, and a full marble bathroom with luxury bath products, hairdryer and bathrobe.
The table below includes details of room types held for IFFO delegates together with the rates.  Further details about the rooms can be found at www.fourseasons.com/miami/accommodations.
Due to high demand all rooms on the IFFO block, held for our event, have sold out.  Details of alternative accommodation is available here.
Room Rate US DOLLARS
($) per night *
Dimensions /
Availability
Single: US$ 332.67
Double: US$ 372.67
Room size: 46m2
Qty held by IFFO: 113
The below additional room types are subject to availability upon request (not part of the IFFO room block):
One Bedroom View Suite King
Single: US$ 954.17
Double: US$ 994.17
Room size: 98m2
Qty held by IFFO: 0
* PLEASE NOTE: 
Guestroom rates are quoted in US dollars (US $) per night and group rates are valid for the period 30 March – 9 April and are subject to availability. 
Room rates include applicable occupancy and sales taxes in effect at the time of check in (currently 13%).  Rates of tax are subject to change and as a result the final amount of payment according to the hotel will be amended in line with any change in applicable taxes. 
Also included in the room rate is American breakfast (in the restaurant), standard WiFi and access to the fitness centre. 
To help you secure the room of your choice please book early as rooms are available strictly on a first-come first-served basis and you may not be able to secure your preferred choice.
Smoking is strictly forbidden in all the hotel rooms, however there are designated smoking areas. 
BREAKFAST
American breakfast is included in the room rate.  On Tuesday 5th and Wednesday 6th April breakfast for IFFO delegates will be served in the Miami ballroom.  Before and after these days breakfast will be served in '14 Thirty-Five' which is located in the hotel lobby.
For any guest taking breakfast through Room Service, the Hotel will charge the rate à la carte (Room Service menu) to the guests' individual accounts, to be settled before departure.